A personalized gifts to kids or adults
A personalized gifts to kids or adults which is very unique to have. Play with it or if you want to hang it on the wall you can hang on wall either with puzzle or just a photo.
It is a Jigsaw puzzle which is fully customizable puzzle with your photo on back of the puzzle. It is made up of MDF Wood which is high quality wood to provide you quality gifting products from printmygift.in
It can be beautifull gift for someone you love or admire or have a mind to make them happy with your creativity then surely you can choose this personalized gift for whom you are thinking now.
It is designed to have 1 gift but 2 functions of it. You can use this picture frame for just hanging on the wall or to set it on table. Or more you can do with it is, It comes with puzzle block which is fully magnetic blocks it have magnetic sheet on the picture frame and the puzzle blocks, so that you can solve the puzzle and can see the hidden message or picture in the puzzle.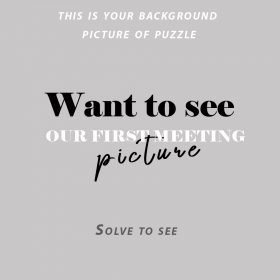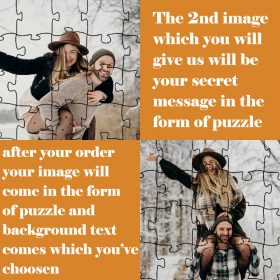 Create a jigsaw puzzle in unique way
you have a creative mind, on our platform of personalized gifting you can make your picture puzzle frame as you want to, with you creativity, create a great surprise, or any message which you want to deliver in unique way to your lover or any person you love, create it for any speacial occasion like Birthdays, Marriage, or even pregnancy! You can make your loveones happy in diffrent way with this personalized Jigsaw puzzle frame.
you can make your favorite memories get cherished by pouring them into a personalized Jigsaw puzzle! Let you and your family enjoy a fun activity of solving puzzle over and over again.
your given pictures will get printed on high quality MDF Wood which have magnetic sheet on the top of your picture and the back of your puzzle block so anyone can solve & its MDF Wood shows catchy colors of your picture. The sturdy magnetic backing ensures that the puzzle block stay in shape,  and their magnets on puzzle  have the effect for years to keep it a unique gift jigsaw puzzle.
There is one picture frame in back of the puzzle block showing your full sized picture.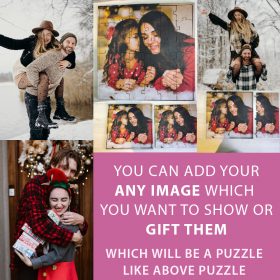 Personalised jigsaw puzzle for Kids
you can create the puzzle with pictures showing vacation spots of your kids with this personalized jigsaw puzzle. you can create the puzzle of a picture of them to disneyland, their graduation moments, their first day at school, their happy moments with grandparents, or even moments their school functions.
Also you can add custom text with children's names to create a good personalized photo puzzles. You can make them feel special and happy throughout their happy time while they are making puzzle blocks of thier very own faces. This personalized jigsaw puzzle frame blocks are so handy even a child can held it comfortably with their small hands.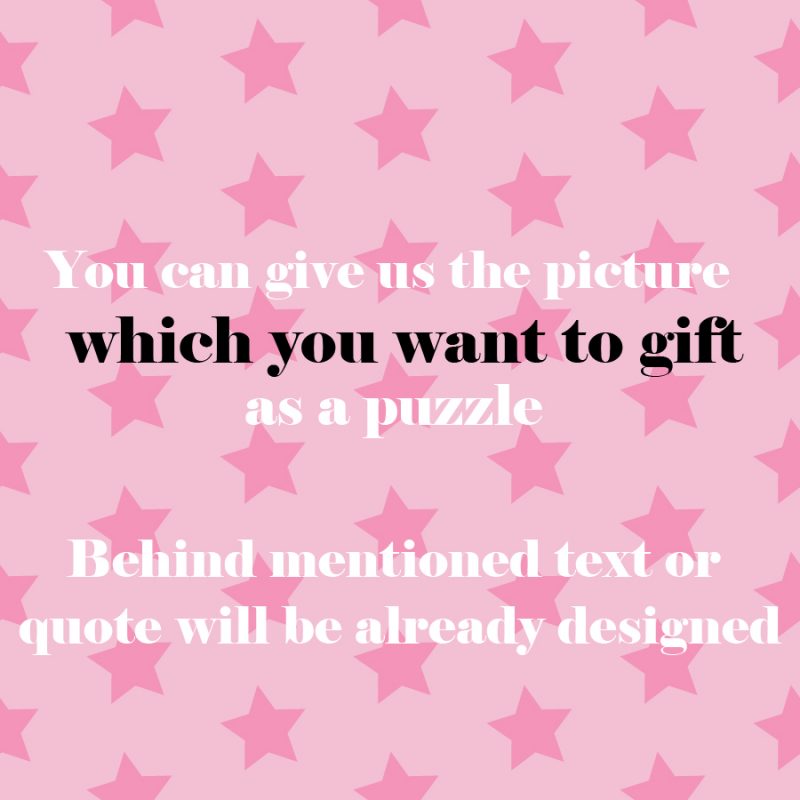 You can create Photo puzzle collage with you pictures!
If you are getting confuse between some of your best pictures to create the jigsaw puzzle so don't worry you can get all your favorite pictures on the jigsaw puzzle in one photo puzzle collage which you can create in your cellphone or laptop with ease. after that you can upload that collage picture having your 2 or more favorite pictures in one picture.
Create puzzle with not one but many photos!